As Americans hunkered down in their homes in the early days of the COVID-19 pandemic—with remote work and school continuing into the foreseeable future—many began tackling home improvement projects. Demand for home offices, more living space, and nicer outdoor areas boomed. Interest rates also dropped to record lows, spurring many to take out home improvement loans. According to loan-level mortgage data from the Home Mortgage Disclosure Act (HMDA), there were nearly 480,000 conventional, single-family home improvement loans taken out in 2020 with a total value of $54.5 billion.
Investments in home improvements began to fall during the housing crisis—and beginning of the Great Recession—that started in late 2007. Things didn't turn around until 2010, but home improvement spending has steadily increased since then. The most recent recession—the COVID-19 recession—lasted just two months, from February to April 2020, and differed markedly from the Great Recession. Most notably, home prices didn't drop, but instead rapidly increased in the aftermath. The combination of increasing home prices and record low interest rates gave owners access to more capital, as well as the confidence that they would be able to recoup home improvement investments if they were to sell. In fact, home improvement spending reached record levels in 2020. 
Homeowners that took out loans to finance their home improvement projects in 2020 tended to spend more on home improvements for second residences and investment properties than on improvements to primary residences. The median home improvement loan amount for principal residences was $65,000 in 2020, compared to a median amount of $105,000 for both second residences and investment properties. Home improvement investments in second homes and investment properties can yield a bigger return through rental income or sale profits when compared to improvements to owner-occupied homes in which the owner does not intend to sell.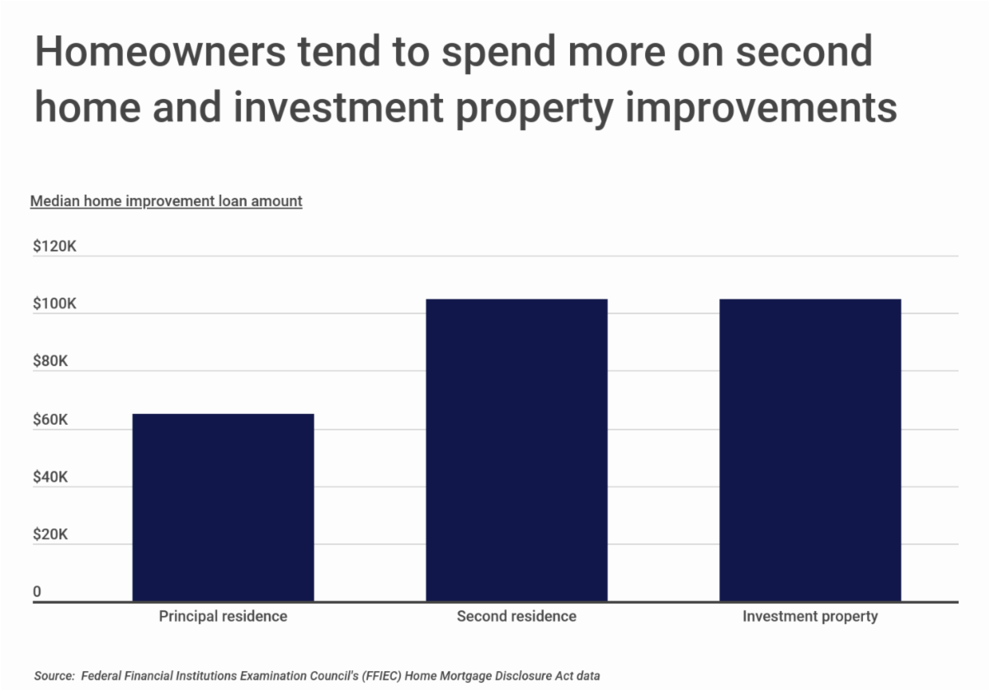 Both the total number and value of home improvement loans vary on a geographic basis. At the state level, South Dakota homeowners had the biggest increase in home improvement loans from 2019 to 2020, at +62%. The median home improvement loan amount in South Dakota in 2020 was $85,000, higher than the national median of $75,000. Other states experiencing a sharp rise in home improvement loans include Idaho (+30.9%), Oregon (+30.6%), and Utah (+24.0%).
Interestingly, about half of states reported a decline in home improvement loans from 2019 to 2020, likely due to large numbers of self-financed home improvement projects or homeowners refinancing their existing mortgages to pay for upgrades. Middle- and upper-income homeowners benefited massively from the stock and real estate market booms, allowing them to more easily afford home improvement projects without having to take out home improvement loans.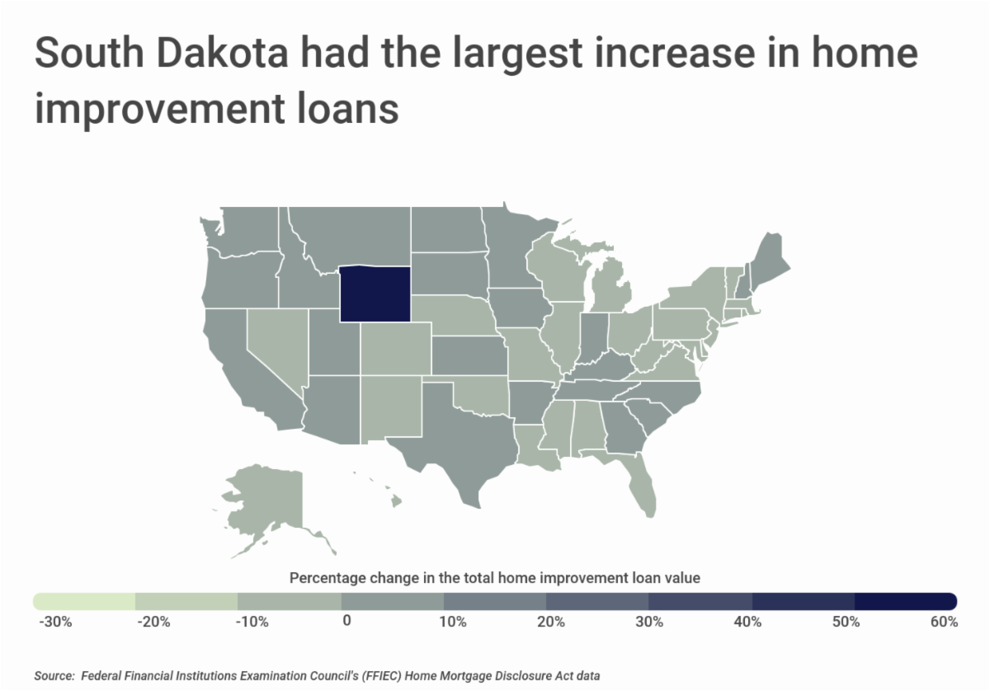 To determine the metropolitan areas with the biggest increase in home improvement loans since the COVID-19 pandemic began, researchers at Construction Coverage analyzed the latest data from the Home Mortgage Disclosure Act. The researchers ranked metros according to the percentage change in the total home improvement loan value from 2019 to 2020. Researchers also calculated the median loan amount, the median interest rate, the median loan term, and the median property value. To improve relevance, only metropolitan areas with at least 100,000 people were included in the analysis.
The analysis found a 10.0% increase in the total home improvement loan value of Greensboro-High Point metro home improvement loans from 2019 to 2020. Here is a summary of the data for the Greensboro-High Point, NC metro area:
Percentage change in the total home improvement loan value: +10.0%
Median loan amount: $55,000
Median interest rate: 4.0%
Median loan term: 30
Median property value: $215,000
For more information, a detailed methodology, and complete results, you can find the original report on Construction Coverage's website: https://constructioncoverage.com/research/cities-with-biggest-increase-in-home-improvement-loans-2022