THE STORAGE ISSUE that comes up the most in Irish kitchens? "It's the cluttered worktop," says kitchen designer Marie Browne. "If you did a spot check on practically any kitchen, you're going to find a cluttered worktop."
Our kitchens work so hard – they're cooking, eating, entertaining and living space all wrapped into one – that it's very easy for those little bits and bobs to build up over time. And clutter has a significant impact on our use of the kitchen, says Marie. "People don't realise how much it affects the way they cook."
But here's the good news: Improving the design of your kitchen can help you minimise mess, without adding any extra space.  
We asked Marie, a designer with Cash & Carry Kitchens, to share her professional design tips for solving the clutter conundrum – and the rest of our most frequent kitchen storage dilemmas too.  
1. First, do a stock take
The first step on the road to storage heaven, says Marie, is to know exactly what you have. "I think the first thing is to educate yourself on what you're storing," she says. "Some people reading this might never have emptied all their presses. Go into the kitchen, set two hours aside, take everything out of your presses. They probably need cleaning anyway!"
Chances are, there will be some things you just don't need – and once you can see it, you can deal with it. "Throw out all your expired food, your repeat containers, your tupperware without lids… just get rid of it. You're not going to use it."
Then, think about what you actually want to store. Be ruthless. "Know what actually has to go back in," says Marie. "It can be chaotic when you've been somewhere for years. Things just build up."

Source: Shutterstock/NataVilman
2. Clear those cluttered worktops
Why do our worktops end up cluttered with odds and ends? Often, says Marie, it's not because there isn't enough worktop space – but because the rest of the kitchen isn't organised enough. We leave things on the countertop because they don't quite have a home anywhere else. 
To tackle this, first divide your kitchen into zones – "your cooking zone, your food storage zone, your utility zone for cleaning" – then give everything a place in the right zone.
Once you've done this, finding things putting them away becomes almost a "muscle memory", says Marie. "I know that when I'm looking for any food, I'm going to the left of my kitchen." And when you have a system, it's easier to stay on top of it. "If you let stuff build up over time, it's not going to have a home."
3. Keep like with like
Within your zones, you can make them work even harder by always keeping the same materials together. "Group like things together," says Marie. "All glass together, all plates together, all mixing bowls. In the pantry, put all dry goods on the same shelves." Have a snack drawer instead of leaving odds and ends around the place. (Everyone needs a snack drawer, right?)
Marie calls this a 'one touch' approach, because everything you need is within one movement. "I have a snack drawer. I have a drawer for cooking and spices. I have a pasta and rice drawer. I have the pots and pans all next to the hob, so that I just have to reach below me. If you implement a system that is intuitive, it's second nature to put things away because you know were they belong."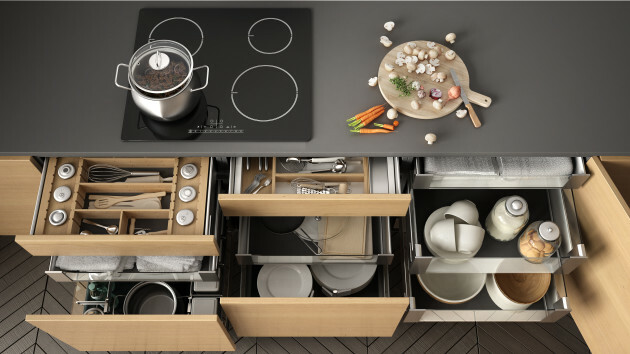 Source: Shutterstock/Archi_Viz
4. Make your shelves work harder
"Everyone thinks, I need loads of shelving" for storage, says Marie. But the 'one shelf fits all' approach is an outdated one, which can actually increase confusion and clutter as items at the back get lost. How many of us have bought something in the supermarket, only to find another one hidden at the back of the press?
Instead, she suggests adapting your storage so that it is customised to your needs. "Look for solutions that work for that space. How you store cleaning supplies may be a basket on a shelf so you can take it from room to room, but to store food in the larder, a pull-out drawer lets you see all the inventory and shop accordingly."
The reward? You'll find you can actually fit more in. "You take one unit that's accessorised, and that will do the job of three shelf units."
5. Remember that needs can change
Don't be afraid to acknowledge that your kitchen does different jobs at different times of year. What a family needs during term time, for example, might be different from during the summer or even over Christmas. 
"Regularly taking stock is really important," says Marie. "Look at what you need."
That could mean giving priority to the things that are in heavy rotation right now – and changing as the year progresses. "My summer kitchen is a little different to my school year kitchen. During the school year I have a drawer of lunch boxes and bags – that moves up, it becomes a priority. In summer, maybe it's beach stuff for picnics."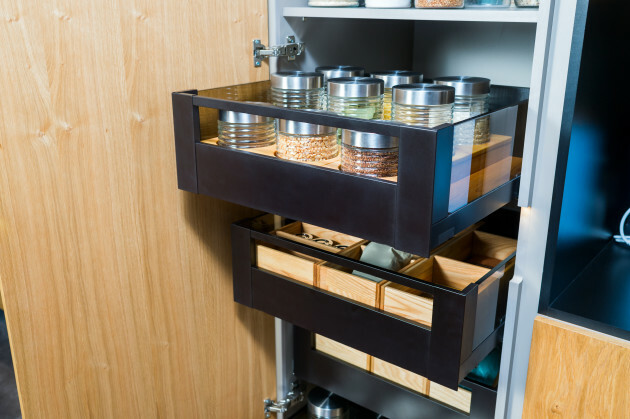 Source: Shutterstock/P A
6. Work on the things you can't see
Out of sight, out of mind? Hardly. Investing in what is behind those cabinet doors is "the best money you'll ever spend", says Marie. "Put in the racks. Put in internal drawers. It makes life so much more organised and smooth."
As a designer, she works with a number of clever solutions to make the most of tricky spaces – from drawers with slip-resistant mats and pegs to keep plates and bowls safe, to pull-out racks that clear oils and bottles from the counter.
And for those awkward corner cabinets? "We have a new corner accessory called the Fly Box, it's really exciting. It sits on a track and comes completely out of the corner on heavy-duty hinges – so it can hold over 200kg in total." Suddenly that hidden space is working hard for you. 

Source: Schreinersicht/YouTube
7. … And don't worry, you can keep your junk drawer
The messy drawer? It's OK, you can keep it, says Marie. Just make sure it's under control. "If you need a pen, pencil drawer, if that's going to occur anyway, put it in," she says. "But keep it small so that you don't overload it."
She suggests accessorising it with a tray or dividers, so that you're not always losing things at the back. "I have a small one and I actually put a cutlery tray in it. It's a junk drawer, but's in an organised junk drawer – just by putting that one storage accessory in."
Could your kitchen use an expert eye? You can book a free design appointment with Cash & Carry Kitchens today, at any of their 15 nationwide showrooms. With a reputation built on quality, trust and expertise, Cash & Carry Kitchens are with you all the way – from the first conversation, to seeing your new kitchen installed by trained fitters. To start your journey and book a free consultation, visit cashandcarrykitchens.ie or call 1890 92 92 26.