The latter honour recognises his services to science, technology and business, but also his role in fostering the relationship between Australia and the United Kingdom.
That relationship has, since June, been the subject of negotiations over a Free Trade Agreement that could boost relations with Australia's seventh-biggest trading partner.
Sir Andrew says it is a relationship that "is going to become much more important in the years to come".
"With Brexit coming, whatever your persuasion on that, it is going to result in a more sovereign United Kingdom which will want to choose how it makes friends all over the world and will be much less constrained in the terms of doing that," he says.
"The tyranny of distance is much less of a problem now for nations to collaborate. I think that was true anyway and I think that has been accelerated by the fact we now have to work much more virtually [because of the pandemic].
"In a fast-moving world I do believe the timezone [differences between Australia and the UK] can be your friend because you can put teams together who can move around the clock.
"I am a huge champion of Australia and a huge champion of the UK and it would be good if the two countries were linked and I think it is possible."
British Prime Minister Boris Johnson joked in June that such a deal could boost two-way trade of breakfast spreads such as Vegemite and Marmite, and give Britons access to cheaper Tim Tam biscuits.
'It is about staying connected'
For an Australian audience used to free trade deals with Asian nations that are focused on primary industries such as agriculture, mining and energy, the opportunity presented by a pact with the UK has been less obvious.
But Sir Andrew believes there is fertile ground in a range of sectors.
"If you get going with a trade in goods, the services follow and the intellectual property follows," he says.
"It is about staying connected … one of the bigger risks to the world is this potential bipolarity that may develop between China and the US, and that is not easy for members of the western alliance like Australia and the UK and one just hopes that through the right kind of articulation we can sort some of those things."
Having handed over to new BHP boss Mike Henry on December 31, Sir Andrew moved back to the UK in late March.
"I came straight back into lockdown," he recalls, mindful that lockdown would have been longer and more severe had he stayed in the Melbourne suburb of Richmond.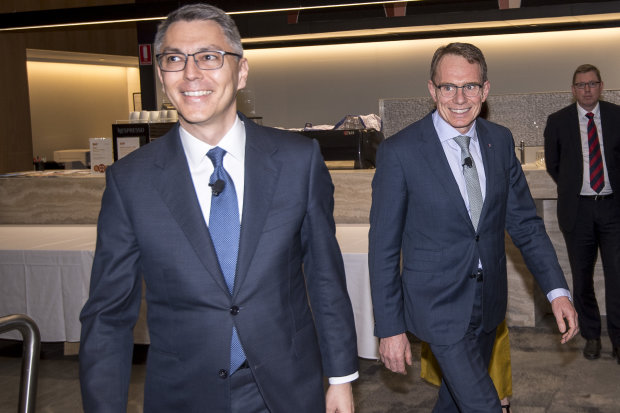 One of his primary objectives on moving back to the UK was to provide care and assistance for his 89-year-old father, before he died a little over a month ago.
"He had no pain and his heart just gave out one evening," says Sir Andrew, adding that being close to his father during those final months was the thing he held most dear from this year.
Describing himself as "semi-retired", Sir Andrew has mixed home handyman work with family reunions this year, and it had not escaped his attention that his adopted Australian rules football club St Kilda had won its first AFL final since 2010.
You can do an awful lot more than you think [digitally] and we were pioneers of this at BHP.

— Sir Andrew Mackenzie, former BHP CEO
He is now filling his time doing "below the radar" work for the world's oldest scientific academy, the Royal Society and, since October 1, serving as a director of Shell.
His first board meeting at Shell was conducted in the digital, rather than physical realm.
That experience reminded him of the silver linings that could come from a tragic year where much of the world was forced to adopt technology sooner than they might have chosen.
"You can do an awful lot more than you think [digitally] and we were pioneers of this at BHP partly because we were [far away from the rest of the world] in Australia," he says.
"We always invested heavily in communication technology and a culture to support it.
"It is great now that the rest of the world sees that because there are lots of things BHP could not do because the counterparties were not up for it. Now they have been forced to be up for it, and that is universally positive.
"I do hope we can get through this. I think it's wishful thinking to say sooner rather than later, but I hope we also preserve everything we have learnt as a world and as companies about how to operate effectively in these settings."
In a statement on Monday, Mr Henry said Sir Andrew's knighthood was "richly deserved".
"Andrew is well known for his scientific curiosity, commercial acumen and above all his belief that business can be a force for good, for shareholders and society alike," he said.
"We saw that at BHP in many ways, from his approach to safety and productivity, and environmental stewardship, to the aspiration for a diverse and inclusive workplace.
"Andrew cared deeply about the big issues facing the world and Australia, including the rights of Indigenous people, climate change and economic development."