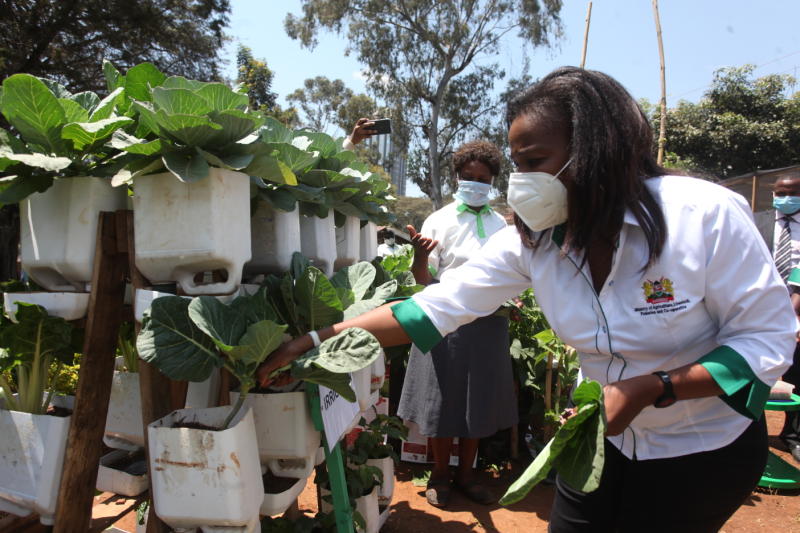 In capitalism one eats food they pay for. You pay for the food from your pocket or by farming it yourself.
On Tuesday this week, the Ministry of Agriculture, Livestock, Fisheries and Cooperative, launched the model kitchen garden developed in collaboration with Scaling up Nutrition Civil Society Alliance (SUN CSA Kenya).
"Kitchen gardens are the easiest ways households can ensure inexpensive supply of fresh vegetables, herbs, spices and other plants," Anne Nyaga, the Chief Administrative Secretary, said at the event.
The model kitchen garden, located at Kilimo House in Upper Hill, Nairobi, is the centrepiece of the call by the Government for families to cultivate home-based gardens, "at least one million kitchen gardens across the country," Nyaga said.
Affordable food at home
"The focus is not only to make food available but also improve the nutritional quality of that food: nutrition is the difference," said Martha Nyagaya, the chair of SUN CSA Kenya board during the third national nutrition symposium which was running concurrently with the launch of the kitchen garden.
Evidence shows most vegetables consumed by households in Nairobi are grown along polluted rivers and streams using wastewater – which contains heavy metals and other toxic chemicals.
"Developing your own kitchen garden assures your family of a high nutrient diet that is not toxic to your body and cannot cause cancer," said Nyagaya.
The Nairobi County Assembly adopted the Water and Sanitation Services Policy last year which outlaws use of sewage water and wastewater to irrigate crops.
For those interested in setting up a kitchen garden, here are some of the easy-to-implement technologies one could use to develop the system.
1.     The wick irrigation garden
This is a simple garden
…
Continue Reading